SUCCESS STORIES DIRECT FROM THE YAHOO! RAW FEEDING LIST
This page has several excellent and amazing testimonies from people who switched their pets to a raw diet. These people and these testimonies can be found on the Yahoo! Rawfeeding group, which is where I first learned of them. They have been reprinted with the permission of the original posters. While the success stories here are awesome and awe-inspiring, I also want to note that a raw diet is not a fix-all, cure-all. Feeding an appropriate, healthy diet will always be a tremendous step toward a better, healthier lifestyle, but diet cannot fix all problems.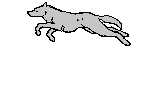 My 15-month-old Dobie pup is 4th generation raw fed, with grandparents and great-grands that achieved Longevity Certified status with the DPCA. Not to mention lots of working and show titles. :) He is an amazing pup, and I can't take him out in public without at least one person telling me how beautiful he is.

My Bostons are 1st, 2nd, and 3rd-generation raw fed. So far, the elders that were started on kibble and switched to raw (also minimally vaccinated) have exceeded the average lifespan for their breed. The youngest generation will be the last, as I retired from breeding and showing 6 years ago, but they are doing beautifully at 6 and almost 8 years old. They and their almost 11 year old mother have pearly white teeth and have never had a dental cleaning! (No, I don't brush their teeth.)

The above-mentioned mother, raw fed since I got her back at 14 months old, had a mastectomy 3 years ago, when she was almost 8. The pathology report described a malignant tumor completely surrounded by lymph (?) cells. Although the oncologist said it wasn't possible, it appeared that her (raw-fed) body was actually fighting the cancer and had it contained.

Her 12.5 year-old brother (she was from a repeated breeding) started out life with an infected belly button, and was pu/pd until I switched him from kibble to raw when he was 6 months old. He has survived cancer (MCT) twice, surgically removed. Two months before his 12th birthday, he was diagnosed with chronic renal failure. Six months later, he is eating well (modified raw diet to control phosphorus) and keeping the Dobie in line.

This is enough for me.

Scottee Meade
Burke, VA
My neighbor to the left of me switched her Labs to raw a few months ago. My neighbor on the right was visiting the other day and "had to look twice" at Alex, the neighbor dog on the left, because she "wasn't sure who he was". She couldn't believe what she saw - Alex has been the size and shape of a boxcar since he moved in five years ago. We had nicknamed him (lovingly) "Pigbear" because that's what he looked like. Poor Alex's mom has been trying for years to get his weight down and following her vet's advice to feed him Iams Weightloss Formula because it's a "good food". He managed to stop gaining weight on it, but could not lose it (and was always hungry, poor coat, etc.) on the Iams. Then we switched Alex and his brother to raw.

Alex looks like a dog, again! We didn't even know that he could, but he does! His whole body shape has changed. So much so that the other neighbor didn't recognize him, at first. So much so that my neighbor's aunt saw him and said, "Hey! I want to feed my dog good food, too!" (she was impressed)

There is no question that raw has improved the quality of his life. Whether he will live longer, I cannot say.

I had a sheltie mix who lived to almost 19 on grocery store dog food, back when I was a kid. This fact does NOT make me think that grocery store food is the way to go - actually, it makes me cringe to think how long she might have lived on raw - like that rawfed dog in Australia, might she have lived well into her 20's? Maybe.

Casey

I have fed raw for going on 5 years to 26 rescue dogs, some with significant health issues. I am going to post some of the health issues I have dealt below:

Frost 10yr old Samoyed: cause of death terminal bladder cancer—metastasized due to improper diagnosis--so too late for treatment and I euthanized her in 3/03. Frost also has Spondylosis, Hypothyroid, Chronic Pancreatitis, Enzyme Pancreatic Insufficiency, and last but not least Diabetes. When I euthanized Frost, her anti-raw vet admitted to me that Frost was the best regulated Diabetic she had ever treated and if the cancer had not taken her, would be here today. Diabetes is disease LINKED to diet. The terminal bladder cancer Frost had is LINKED to flea/tick/heartworm treatments. All I stupidly used to give Frost. Frost was fed by the prey model—nothing different than I fed any of my other dogs.

Angel, 8.5 yr old black GSD. Angel has Plasmoma, a rare form of Pannus. When Angel was seen by the specialist in July he was amazed at her eyes and does not want to see her for a year. She is given minimal supps (fish oil only), wears her doggles. She used the meds maybe once every 4-5 days as opposed to twice daily. Pannus/Plasmoms is immune related, there is nothing that strengthens the immune system better than proper diet.

Samantha, 10yr old Samoyed; hypothyroid. When Sam came to me over a year ago, she had basically no hair and very fat. Vet check and of course hypothyroid. Vet tells me not expect her coat back. Lo and behold, it has all come in- in fact her coat is gorgeous now. What is different than the other dogs my vet sees? Diet.

Pandora, 7 yr old Rottie/LabX, confirmed diagnosis of Discoid Lupus— through biopsy at Texas A&M. The only traditional known treatment is steroids, vit E, zinc, keep out of sun. Before Panny went raw she had lost all black pigment on her nose, eyes, and muzzle. She also had little sores, like boils all over these areas and those areas were always swollen. Panny could not go in the sun at all. Vet wants to put her on steroids, I take a leap of faith and switch to raw. Six months later (4.5 years ago) Panny's Lupus is in remission--no drugs at all. Only change: diet. I also do not limit her sun expsoure.

Bear, 10yr old Border/Collie/LabX. Idiopathic Epilepsy. Bear's seizures were so bad her vet was afraid she would snap her neck and badly injure herself. 5 years ago, I refuse drugs, instead giving acupuncture and change to raw. 4-5 months into raw & continued acupuncture—no more seizures. Bear has not had acupuncture for about 4 years and has remained seizure free. Only change: diet.

Karen
I've been feeding raw for over four years, so don't have a few generations of only raw fed dogs. I started because my 10 y/o Lab had hypercalcemia. Six weeks of vet testing and surgery provided no answers. The dog was miserable. Would lie around and had no energy. I was told that she would live out her life with high calcium levels and constantly wanting water. Not good enough for me. Research led me to raw and a different renewed quality of life for my dogs. Calium levels dropped in less than three weeks and the dog lived a high quality life until almost fourteen. She had more energy and better health at 12 and 13, than she did at 10. Great teeth, breath, skin, eyes.

My current 7 y/o Lab had nine pups a year ago. Easiest delivery I ever witnessed. I didn't have to assist with getting pups to breathe or getting them to nipples. They were strong and active. My bitch had more milk than any of my previous related bitches. The pups were all raised raw. Mom cleaned up and nursed until they left. I never saw that with a kibble litter. Visitors constantly asked, "do these pups ever poop?" I never once had to bathe the pups, as they weren't sliding in the copious piles of mushy pooh that kibble pups have. The raw pups were stronger and more athletic than previous litters. They didn't have that doughy appearance.

I compete in field and obedience trials with my dogs. I am constantly asked how old my dogs are because of their energy levels. I didn't retire my last dog (the one that started raw at 10) until she was 12 years old. My seven y/o works like a three year old. I never push my diet on anyone, though many ask "what are you feeding those dogs."

I was at the dental vet last week and he said he could see that I must brush my dog's teeth every day. Never. They're beautiful teeth. When the vet saw the teeth of my thirteen year old, he told me she had the mouth of a two year old. He couldn't believe I had never had them professionally cleaned.

I still consider myself a neophyte in the world of raw, but simply observing the health benefits is enough for me. I love the smell and touch of raw dogs. Sweet breath, no body odor.

Longevity isn't solely diet based, but diet certainly does play a role in longevity and health.

Diane
I switched Ricco over to raw at about 5 months of age? I remember finding this list & being the biggest neurotic pest...this was 2 years ago now. It is so funny to think back to how worried I was...how I feared he would choke...all the usual fears...poop patrol....you know what I mean. All it took was one person's statement in regards to raw to start my quest to ultimately, this list, not to mention that my young pup already had tartar developing.

It was an easy transition overall. A few bile bone bits...a few shards in stools..but basically uneventful. He hasn't had a bath in two years...his teeth are beautiful (except those darn canines that I scrape with my fingernail)...he needs to go kill something instead of play with it...my dog play bows to rabbits on his walks...the Vet?? who's that? no visits required...each & every person I meet comments on his lean, muscular physique..his endless energy & pink gums & tongue...his glossy black coat...a truly splendid animal to see..looks like a stallion...all long legs, sinewy muscle.

So really, not a dramatic story like others may have but I feel so much dismay out there seeing other dogs...doughy & overweight...gunky eyes...dull, lifeless coats & eyes...breath like a dragon...such short lives being wasted with inferior health when it doesn't have to be that way. Truly a shame & mankind should be ashamed for what it has done to our cats & dogs...& even the way mankind feeds itself. It is a travesty & one that feeds the drug companies to treat the symptoms & not the cause. It makes me sick....

Chia & Ricco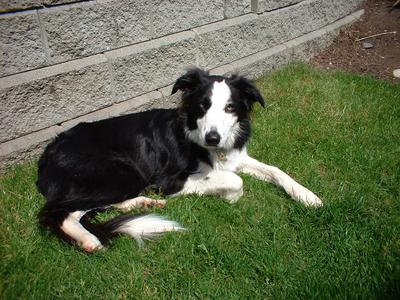 For more pictures of Ricco, please visit his photo album on RawFedDogs.net.
To read more testimonials about dogs and their raw diets, please click here.
---